What colors for Old World?
Hi Sandra,
First, I would like to thank you for your response and for helping me pick out the colors. I received the Kit last week and now I'm actually painting on the base coat. I watched the DVD. and I have one question for ya.
I'm painting the walls in Eggshell. The paint i bought is flat. Did I need to by the semi gloss??? I thought the glossy would make it tacky, but i noticed in the DVD u mention there are 3 types of paint. I'm headed to Walmart to get the colors u suggested this weekend: Color 96224 Woodland Oak for golden brown color, Color H27 formula is b-y24, c-16, f-19, kx-16 in case that is not a Color Place chip for the Burnt Umber Color.
Should these be a bit glossy??? I dunno. I'm afraid to screw it all up. lastly, i noticed since you use glaze to paint your walls, you're able to wipe the paint off immediately if you feel you've made a mistake. Would i be able to do the same with these two colors??? or since its latex no can do. Or is glaze and Walmart just does the mixing for you???? Sorry for asking so many questions. I promise to email the pictures of the final result.
Thanks,
Sophia A. Idrissi
No problem Sophia,
You can never ask too many questions. When you add glaze to any paint, acrylic or latex, it makes it stay wet longer. So you have time to wipe off if you don't like what you see. Remember that it will dry a little darker than when it is wet. Walmart will mix the latex - you only need a quart of each. But you have to mix your own glaze. Lowe's mixes glazes for you but I think you would have to buy a gallon of each because the glaze is already mixed in. Maybe take a paint chip from Walmart and visit them to see. Home Depot also mixes glazes but for either store, I cannot say I have tried their glaze. As I said, I used Floetrol for my glaze. Walmart does not mix glaze. The reason I mix my own is cause I can always add more paint if it's too light. If you get it pre-mixed, you're stuck or have to buy another. As for the paint to use with the glaze, it doesn't matter but I always use satin cause then I could use the paint on another project. Oh and the burnt umber is KILZ Casual Colors in Walmart; the color is called H27. The colors will look dark to you but keep in mind that when you add the glaze and pounce it with the poofy pad, the colors will look a whole light lighter. Let me know how it goes. Please remember to practice on a few boards first till you get the darkness and style you want. You can never practice enough. I am faux painting vinyl tile in my family room and I have done 2 boards so far and am going to adjust one of them.
God bless,
Sandy

Hey Sandy,
The walls are absolutely marvelous. I can't believe how they came out. You are going to be shocked. It's absolutely beautiful. I love it so much, I walk around the living greeting each vain added. I have names for them too. I wanted this my whole life. I love it!
I have other ideas for the hallway. I'm going to attempt to make the brick faux effect. I can't wait. but I just wanted to let you know, I'm your biggest fan.
I didn't have much problems. I did it with my bf. I had the small poofy, while he had the large. We rocked out, real fast. At least we thought it was fast. It took the whole day, but we blended like crazy. Then went back and put in the dark hues. Later we used the dark hues to give us direction on where to put the vains. The walls were talking to us. It was so easy. The coloring just fell into place. Some walls came out lighter. Then we went back and added the dark hues and once we did that the rest is history.
Hopefully, my friends love it so much- they'll bring some business over to you! Before and after pictures are below.
Speak to ya soon,
Sophia Assaad-Idrissi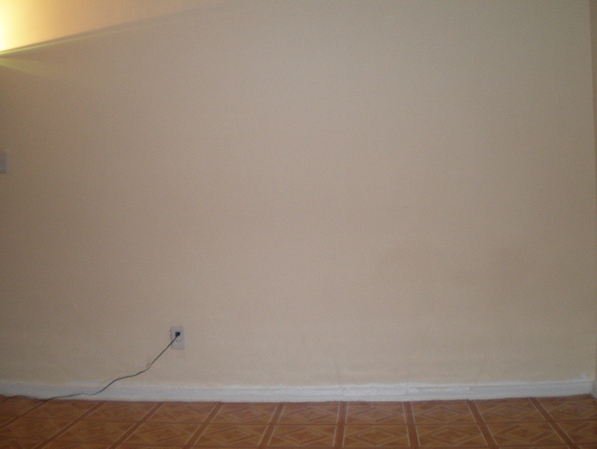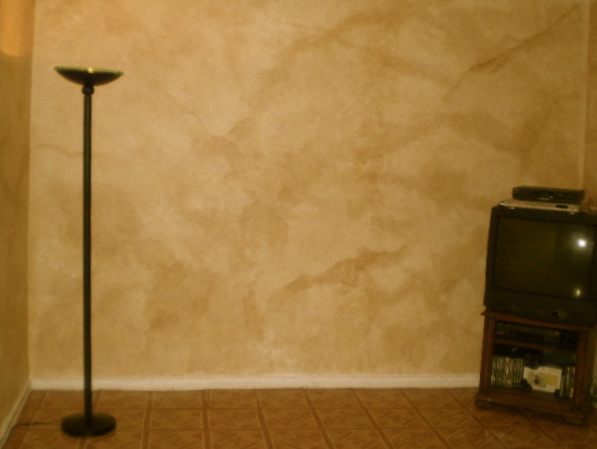 ---

Good morning Sandy,
I am having trouble initiating the old world parchment look. I purchased the colors you suggested in your color guide. I found that the two colors looked very similar. Anyway I tried it. I found that the dark brown color was taking over the lighter color. So I tried the colors suggested in your letter to Sophia Assaad-Idrissi and the same thing happened. The Woodland Oak is very close in color to the Burnt Umber. It does not resemble the color you used in the video. Nor does it look similar to the colors from her picture. You stated the woodland oak should be a golden brown, but it looks more like dark brown even with the glazed mixed in. Am I using the wrong color? Why is the dark brown over powering the other color? Can you please help? Can you also inform me if I am using the wrong color? P.S. I went to walmart and asked for a golden brown and it seemed to be closer to the colors you had. Your help is greatly appreciated.
Natasha
Dear Natasha,
I just talked to my brother this morning and he said the same thing as you. However, when I fauxed the last 3 houses with the same colors, I had no problem. Strange but maybe you are loading the palette with more of the Turkish coffee than you are the Florentine Brass. The reason the color is dark is so you use more glaze than paint and you get more open time. Use up to 2 more parts glaze than paint for the brown color and then if it's too dark, you can load only one section of the palette with the brown instead of two. You see that Sophia had no problem, so you should get the same look. Remember to space out the pressed sections of the palette. My brother was not doing that (he didn't remember what the DVD said) and this morning he asked about it. I told him to watch the video again and again (terms, prep, and tips) so he can get the whole faux painting thing down - open time, avoiding lap lines, etc. Did you faux paint your board with satin finish? I noticed the eggshell is harder to faux on and the colors come out darker because it is flatter than the satin. Again, everyone's taste is different and so is their browser/computer. So what it looks like on your computer is different than mine. Maybe I prefer it darker and you like it lighter. Adjust with the amount of glaze and use some glycerin as I said on the DVD for more open time. The more spaced out the sections of glaze, the more blended, softer and lighter it will look. The closer the sections, the more dark, muddled and textured the look. Hope this helps. God bless you,
Sandy Silva

Thank you, for your swift reply. One question though in the video you mentioned one of the colors used gave the appearance of a golden brown and the other like a coffee color. On your palette in the video I noticed it appeared golden brown and the colors were distinctly different. When I used them neither color looked golden brown no matter how much glaze I used. They both looked like chocolate brown. The more glaze I used it did not look golden and that is why I think I am doing it wrong or using the wrong colors. Also, yes by board is a satin finish. I will incorporate what you have said and I thank you greatly. I hope I have not been a bother.
Natasha

No bother. To verify exactly, I used acrylic colors in the DVD. The colors are raw sienna and burnt umber. Since customers began to ask what colors to use, I decided to get the colors matched to latex paint. There is a slight difference but not much. When I fauxed with the latex paint, it was very similar to what I got when I did the video. Remember that the video is film and it had light on it for the benefit of seeing the technique. In person, it is not light. Check to see if the color you got from Sherwin Williams is Florentine brass because it definitely is golden brown when you add glaze to it. It is no where near chocolate brown. The burnt umber is nearly exact to the Turkish Coffee. Let me know.
God bless you,
Sandy

Hi Sandy,
It's me again. I have another question. For bathrooms, can I use a semi gloss base coat and a semi gloss to top coat with glaze?
Thanks
Natasha

Yes. I have worked on semi gloss base coat and it's a little tricky if you are doing a color wash. Sponging or ragging is fine on any surface but on the semi gloss, the glaze begins to just dry but takes awhile to dry completely so when you go to blend the next section, it takes off the other area just a bit. I say try on a poster board and give it 2 good coats so it feels like the wall when you are practicing. Semi gloss is great for negative (ragging off) techniques which I hope to cover in the future. How did the rest go? Did the colors finally work for you?
Sandy

Well, I tried the Florentine Brass and Turkish Coffee from SW again. I watched the video about ten times, and I did not use as much paint in the glaze. To me it still is coming out to dark. I paused the video when you pressed the colors on the board. I compared what I had to the TV. Your colors appeared to be lighter and have a reddish hue to it. I completely understand about lighting and browsers, but I just do not know what I am doing wrong. I am going to try and add the fireweed and do three colors and see how that turns out. If not, I am going to try the Ivoire and Latte color wash in Semi gloss. Thank you so much for your help and suggestions.
Natasha

I used a pure white basecoat. What color is your basecoat? Maybe that makes a difference. If you are not using much paint, then definitely the color should be much lighter. You could always leave out the Turkish Coffee color and add just a little hint of it here and there after the Florentine Brass has dried. I congratulate you on the patience you are showing in trying to get just the right look. Many just settle cause they want it done NOW. :)
Sandy

Thanks for the inspiration Sandy. There was a time that I was going to give up, but looking at your web site and all the wonderful samples people create from your product has kept me going. I know I will find the right look and when I do, I can't wait to show you. The base coat I used was off white. I will pick up a quart of pure white and see if that makes the difference. Again, thank you and if I do not hear from you have a wonderful Holiday.
Natasha

I am going shopping and getting off the computer for awhile so I am glad you wrote right back. Get a quart of Sherwin Williams Colors to Go which is $5.99. Get satin color Ibis White and have them show you a swatch first to see if it is whiter that what you were using. Have a blessed Christmas yourself.
God bless,
Sandy

Hello Sandy,
I was in an art store over the weekend and decided to look at some acrylic paint. I found the raw sienna and burnt umber, so I bought small bottles. I have not tried them yet. My question is if I like this finish how durable would it be on the walls, being that I have three young children and there hands are all ways on the walls. Second, I would like to faux finish two bathrooms. Would it hold up against water. Third, does it give you a flat finish or some shine.
Thanks
Natasha
Hey Natasha,
Hope you had a blessed Christmas. Sorry I have been busy with family and haven't been able to get to your letter. Acrylic paint is permanent so you can't get it off the walls if you try. All paint takes some time to cure but after 30 days, you can wash them. The glaze will give any paint a slight shine and allow you to wash them. Of course, you don't want to use harsh chemicals or brush. Keep in mind if you don't make enough glaze to cover the walls, you will have to make more, so keep a little puddle of the mix off to the side so you can match the new batch. It's hard to measure the acrylic paint but you could try with a spoon, like maybe one spoon of burnt umber with 3 spoons of raw sienna. Then adjust and try to keep the formula but even if you can't, you can just keep adding color till it's what you want. Remember also that the color will look lighter on the wall cause you are not painting solid but as a wash. Hope it comes out like you want. Let me know.
God bless you,
Sandy Silva