Faux Painting Glazes and Paint
What is a glaze used for faux finishing?

Sandy,
Yesterday I showed my wife your site and she somewhat hesitantly watched it. Today she wants to faux paint!
Bless you,
Kenny
A glaze is a liquid medium that is translucent that can be mixed with regular wall paint or acrylic paint. Because glaze slows down the drying time of paint, it allows time to manipulate the finish with various faux finishing techniques. Using a sponge, rag or other faux painting tools, you can create beautiful faux finishes like Old World Parchment, Faux Brick, etc.
There are quite a lot of faux painting glazes on the market. After many years of literally painting hundreds of walls, we are convinced that water based (acrylic) glazes are the best. The oil based ones have a strong odor and contain toxic VOCs.
Floetrol - Green product that is less than 40 VOC
This company personally uses a paint conditioner called Floetrol as a glaze. It is formulated to be added to wall paint. What we like about using this for a glaze is that you have enough open time to blend out the edges when necessary, yet the glaze is totally dry in less than an hour. This is helpful, especially when you are adding another layer of glaze. Since the faux finishes we teach on our DVDs are positive (additive technique - adding colors to base coat wall as opposed to applying them and then removing them which is a negative - subtractive technique), it's necessary to have the surface totally dry before adding darker hues or veins.
There are message boards that say that using this paint conditioner doesn't give a durable finish, but we beg to differ. In over 13 years of literally faux painting hundreds of walls, we have never had any of our customers complain about that. Even when we have had mistakes (dark lap lines) and we wanted to take off the glaze, it hasn't been easy. Usually we've had to use some kind of paint thinner or alcohol and lots of elbow grease. We're talking about just an hour or so when the glaze has dried, too. The ratio of glaze to paint is anywhere from 4 - 6 parts for 1 part paint. However, we recommend using 6 parts to 1 part paint in order to get more open time. Adding glycerine can increase your open time even more. Just add 1 part glycerine to the mix.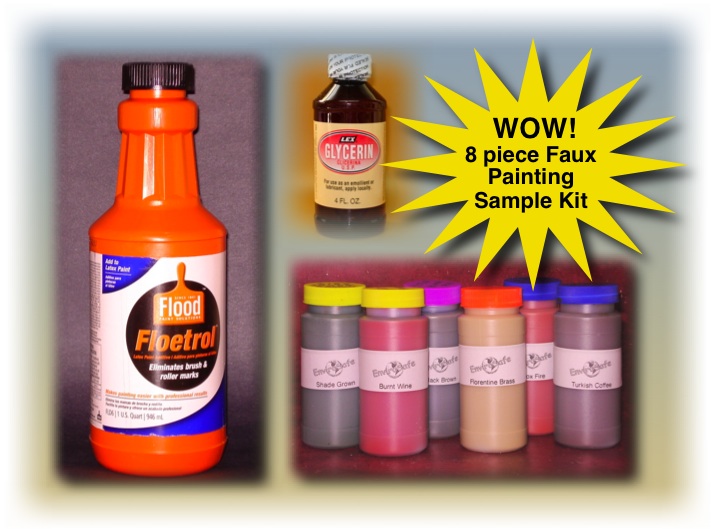 Go to our faux painting store to purchase sample paint kit which includes 1 quart (32 oz) of Floetrol, 6 bottles of ZERO VOC wall paint by EnviroSafe and 1 bottle of glycerine. Floetrol only contains 40 VOC which is considered a green product, also. This is the perfect size to begin practicing and enough to even faux paint a small bedroom or bathroom. If you decide you like this product, you can purchase a gallon size at Home Depot or Lowes. Make sure you shake the bottle well each time before using.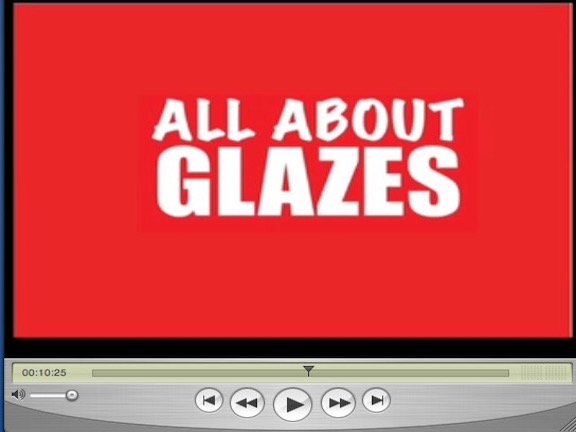 NEW! We have a new updated section for our DVD Workshop which explains all about faux painting glazes
What is the difference between using a glaze and using just watered down paint?
The best way to see the difference is to try both. Water can compromise the durability of the paint if you add too much. There is virtually no open time using just water, that's why adding a glaze is best. Glazes do not evaporate like water does. There are somewhat creamy which makes manipulating the paint easier. Blending colors is achieved easier because the glaze keeps the paint wet longer.
What type of paint is best to use?
We definitely recommend using Eco Friendly paint commonly referred to as GREEN. For your base coat, use wall paint with a satin sheen. Eggshell is fine but gives you less open time. We recommend using regular wall paint to mix with your glazes, too, because you can use our Faux Painting Color Suggestions and Idea E-Book to get the color we recommend for a particular faux finish. Again, use a satin sheen. As we mentioned, use 1 part paint to 6 parts glaze. If you are an experienced faux painter or artist, then you can choose to use universal tints or acrylic paint in a bottle to make your own colors.
How do I measure the ratio of paint to glaze?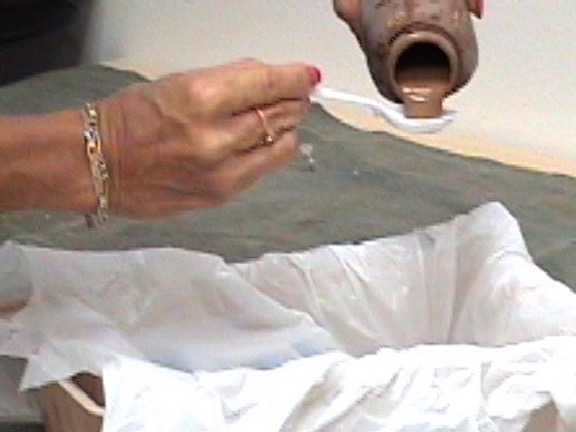 Use a plastic spoon for measuring small amounts used for practicing. Then you can use a dixie cup or larger spoon when you are planning to use more. Write down the ratio in case you run out and need to make more. Before mixing more glaze, make a small puddle and set to the side so you can match the color to the new batch. If you forget to do this, just scoop some off of your palette which has some of the original glaze in it.
Things to remember about faux painting glazes.
1) They make paint transparent so one color shows through another. The color of your base coat will affect how a color looks on top.
2) The more glaze you use, the more transparent and lighter your colors will be. The less you use, the darker, more opaque your colors will be.
3) You will always use more glaze than paint. You will need only a gallon of glaze and just one quart of paint to faux paint a couple of rooms.