Choosing your faux painting colors
Choosing the paint colors for the faux finish on your walls can be one of the most difficult decisions to make when embarking on a faux painting project.
What paint colors should I use??? Nine times out of ten, the clients I have faux painted for in the last ten years left that answer up to me.
A great place to start in choosing your paint colors is to match any colors that appear in the existing decor of the room, whether they are found in the tile, curtains, bedspreads or even bathroom accessories. Using at least two paint colors is preferable. For instance, in one bathroom I faux painted, the tile, tub and toilet were all different colors. By incorporating the 3 colors on the wall, it brought unity and sense to the existing features.
Another suggestion is to go with a contrasting paint color. This works great, especially when you have solid color fixtures or furniture. In other words, if you have a solid brown sofa with solid brown curtains, you don't want to faux paint a brown paint color on the wall. Rather, you should choose a contrasting green or golden color. Don't be afraid of adding dramatic colors to your walls. Besides, it's just paint and you can always paint over.
Visiting model homes or scanning through some Home Decorating Magazines can give you ideas, also. There are some neat programs online where you can actually view a variety of paint color choices using an existing room.
We have even put together a Color Suggestion for Faux Painting E-Book that can be a great help in getting your creative juices flowing. The best part is that for a limited time, it is emailed to you FREE OF CHARGE. Find suggestions on what paint colors to use for the Old World Parchment faux finish.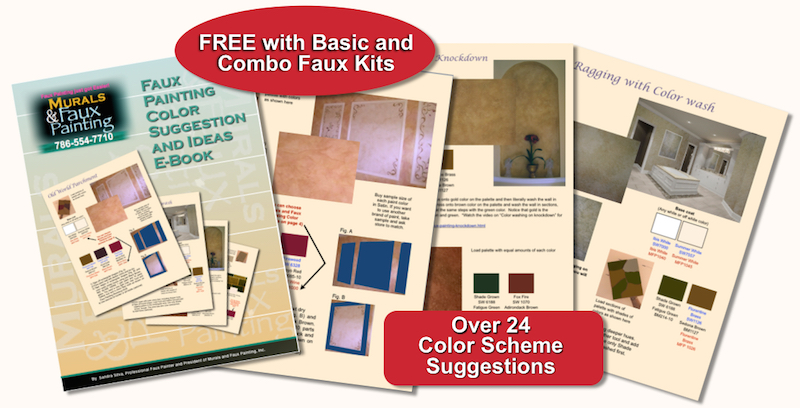 There are a variety of colors we suggest for Faux Color Wash, Faux Brick and many others, also. As we add pages, we will notify you so you can update your file. You can print the E-Book for your personal use, too. Since you will be using the tools included in the DVD Faux Painting kit, some faux finishes show you suggestions on how to load your Multi-Color Faux Palette. The book is at least a $30 value and as we add pages, the value will only increase.
Click below to see more pictures and to LIKE us on Facebook