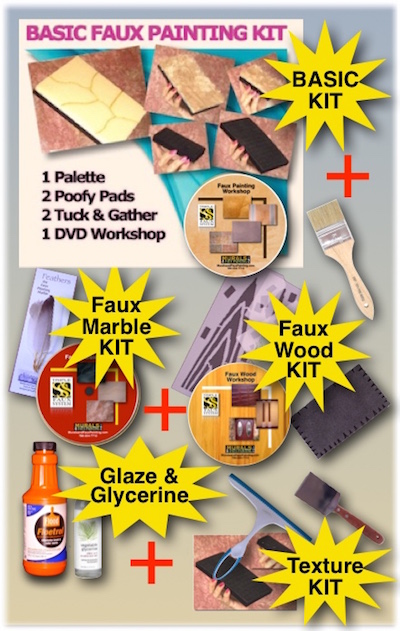 Colossal Faux Painting Combo
Price $175.99
INCREDIBLE! You get the Basic, Marble, Wood and Texture kits in this faux painting combo set with FREE Priority Shipping AND a FREE Faux Painting Color Suggestions E-Book plus a FREE Faux Wood Color Formula e-file. HURRY - FOR A LIMITED TIME ONLY!
HERE'S WHAT IS INCLUDED IN THIS PACKAGE:
* DVD Faux Painting Kit - 5 tools with DVD workshop
Patented (#7472450) Faux System - Workshop teaches you 10 different faux finishes. Includes Multi Color Faux Palette, 2 Poofy Pads and 2 Tuck and Gather tools.
* Faux Marble DVD
DVD that teaches you 7 differnet types of marble - Workshop includes tips and practice sessions.
* Faux Wood DVD
DVD that teaches you how to achieve a faux wood finish on garage doors, cabinets and more- Workshop includes tips and practice sessions.
* Wood graining pad
Unique tool to add grain lines with 8 different sides!
* 2 Wood grain stencils
1 large stencil and 1 small stencils to easily add grain patterns
* Glycerine (6 oz.) for adding open time
Open time refers to the time you have before glaze mix dries. Add one part glycerine to 6 parts of Floetrol to get more open time.
* 4 piece Texture Tool Set
Now you can add texture to your walls by hand with this tool set. This set alone costs $14.99. More information about these tools.
* 1 Set of 3 Feathers for Faux Marble
Assorted Feathers for adding veins to your faux marble
* One Quart (32 oz.) bottle of Floetrol to use as a glaze
Floetrol is a paint conditioner that we use as a glaze. It can be mixed with regular wall paint as well as acrylic craft bottled paint. One quart will allow you to faux paint an entire small bedroom (10 X 10) or bathroom. This size is great for practicing your techniques. You can purchase a gallon later from Home Depot or Lowes for larger projects.
* Chip Brush (2 inch) for blending corners
This is the perfect brush for blending sections where you can't fit Poofy Pad.
* FREE Faux Painting Color Suggestions and Idea E-Book
Take the guess work out of choosing colors. You will receive the E-Book in an email after your order is shipped.

* FREE Faux Wood Color Formula E-file
A .pdf file will be emailed to you so you can print out and take to Sherwin Williams to get the base coat colors indicated on the Faux Wood DVD for various wood finishes
* FREE Priority Shipping
You should get your package 2-3 days after it is shipped.

*FREE Hand Painted Color Swatches
Now you can match any of our colors