How to paint faux wood
Painting surfaces to look like wood is not as difficult as it seems.

Dear Sandy,
I may even start a little side business doing it since it is sooooo much fun AND easy!!
Thanks again,
Matt
Because today, doors, furniture and cabinets are not only made of solid wood but they are made of veneers. Veneers are thin slices of real wood, usually cut from a log. One advantage to using them is that unattractive knots can be avoided when making doors for furniture or cabinets.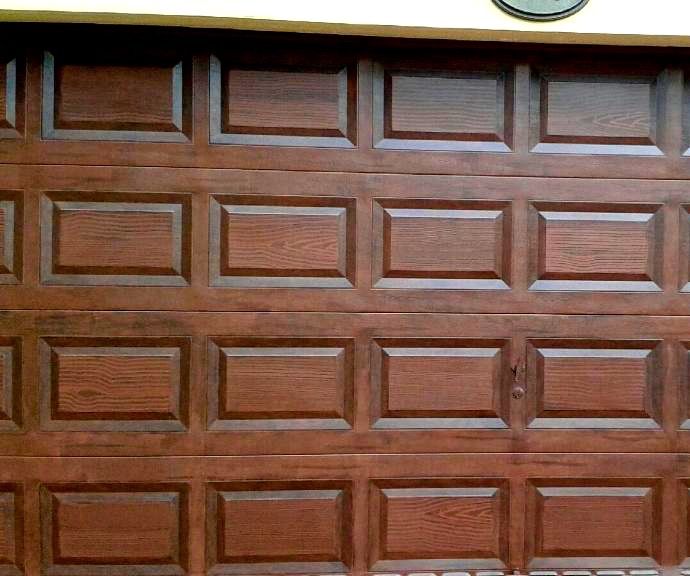 The same holds true when painting a faux wood finish. You decide where you want the grain lines and knots to appear. In some states, wooden garage doors are prohibited by building codes. Therefore, faux painting a wood finish is ideal.
Learn how to faux paint ALL these different types of wood with our NEW Faux Wood Combo Kit.
Mahoganny, Teak and Beech
Mahoganny is a finely grained wood. The grain lines are interlocking, therefore, they are not as distinct. This hardwood is the most popular for garage and front doors as it is usually darker in appearance. Since most homes are in the light or middle tones, having darker doors makes for better contrast and appeal. Teak and Beech wood are similar in that the grains are not very busy looking but the colors can be dark and middle toned as well.
Oak, Cherry and Walnut
Oak, Cherry and Walnut on the other hand, are more busier looking as they have grains that are more distinct. The colors used for Oak are in the honey tones, whereas Cherry is in the red tones and Walnut is more in the darker brown tones. These woods are popular in kitchen cabinetry because they tend to be lighter in color which keeps samller kitchens from looking too dark as well as adding interest with the distinct grain lines.
What tools are included to imitate wood grains?
The most popular tool used to imitate grain lines is a rocker. However, after personal difficulties in manipulating this tool as well as not being able to use it in tight areas, we believe that using a stencil, with a wood graining pad is easier. Therefore, we decided to develop these tools ourselves. Our wood graining pads have different notches on each side to achieve a variety of lines to imitate various wood grains. Together with our custom designed stencils, adding real looking grain lines is easy.
Why the Triple S Faux Painting System is the easiest way to achieve a faux wood finish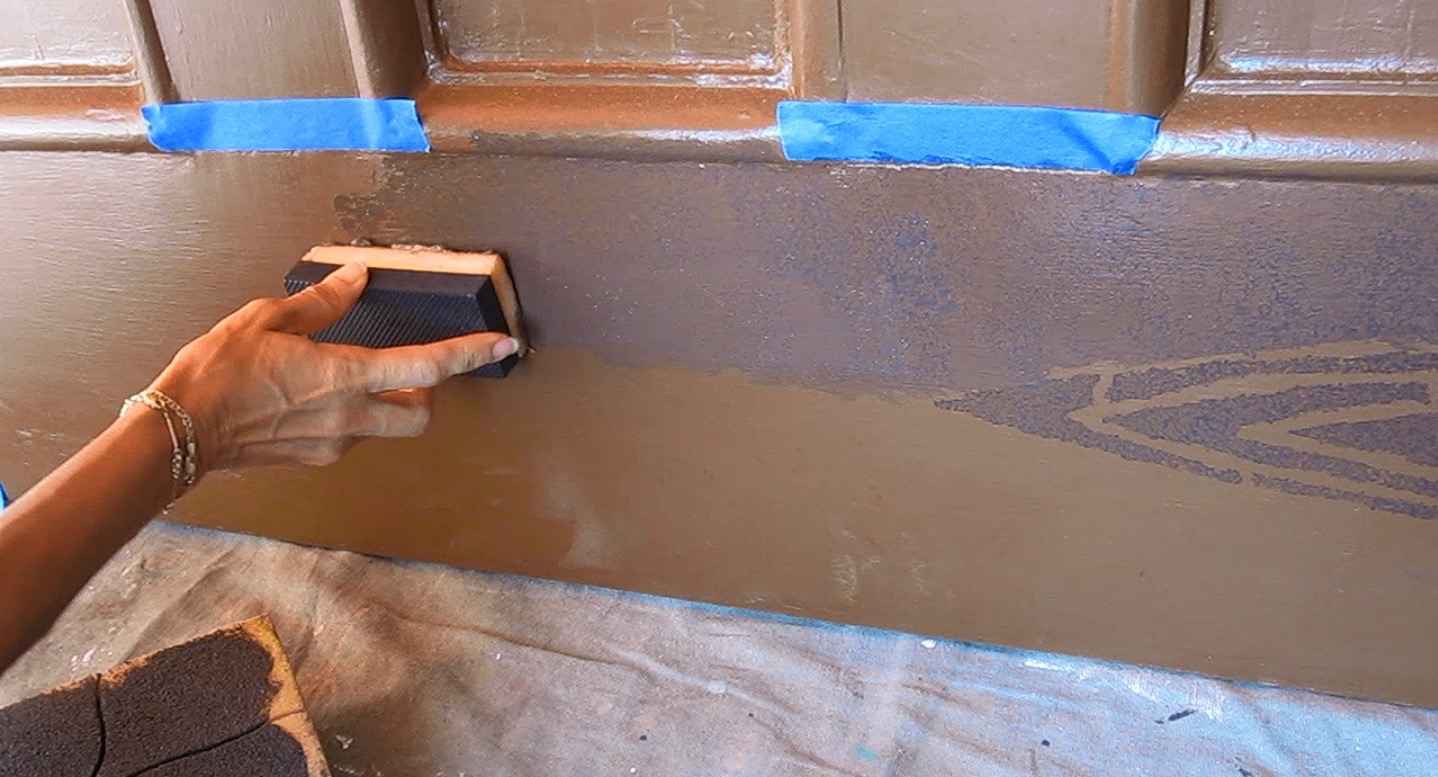 When using water based paints and glazes outside, your open time is usually limited due to the heat. Therefore, applying your top coat quickly is key to having enough time to manipulate it to get the desired results. With this system, you just load the Multi Color Faux Palette and use the Poofy Pad to pounce out your top coat on your surfaces. You can use the poofy pad to apply your stencils, too. No need to buy special brushes. In addition, the natural looking specks that most woods have is achieved with it, too.
What colors are best to use?
The most popular colors used as a base coat for faux wood finishes on garage doors are dark red/orange or orange/brown tones. The top coat is either black, almost black or black brown mixed with a glaze. The most popular base coat for cabinets are mustard yellow or light beige colors. The top coat is either brown or golden brown tones mixed with a glaze. We have put together a pdf file that has our own formula for the most requested colors we have used. If someone orders our Faux Wood Combo kit, they will get the file attached in a email. You can also come back and add another layer of color around the frames to get a Two Toned look.
What type of base coat sheen is best?
Your base coat should be a satin sheen. It's not possible to do a faux wood finish on an egg shell or flat sheened base coat because your glaze will dry almost immediately, making it impossible to add any wood grain lines.
Hire our painters
If you would like to hire our company and see our ESTIMATED PRICES, click below
Faux Painting Services
or call 786-554-7710 for FREE ESTIMATES on the phone.
Click below to see more pictures and to LIKE us on Facebook