Old World Parchment Faux Finish Painting
The Old World Parchment is the most requested faux finish there is. It's common to see pictures of walls faux painted with this technique in decorator magazines. Walls are supposed to look like aged, distressed plaster found in old stone buildings in the Mediterranean. Another common term for this finish is Tuscany. Although one might think that you need to have very rustic decor in order to incorporate this look on walls, many have faux painted the Old World Parchment in rooms with contemporary furniture, too.(Place mouse over picture above to view larger image)
How to achieve this faux finish
Since the goal of this technique is to make the walls look old and worn, you can get an authentic look by creating different shapes of dark and light tones of paint. We don't want a conformed pattern as then we would tend to get a look like wall paper. There are a few different ways to manipulate our glaze on the walls. The most common method is to use a cheese cloth to rub the glaze on the wall. Another way is to use a brush and apply a cross hatch pattern all over. You can also use paint rollers to apply the glazes to the wall and then remove some of the glaze in order to let some of the base coat to show thru. Then using a hake brush, you soften the patterns made.
Why the Triple S Faux Painting System is the most efficient way
As you can imagine the methods mentioned above are time consuming. In addition, you can't really control where your light and dark shapes will be. If you want to use more than one color, you must wait till the first layer is dry before applying another or you have to apply each color with a brush in different spots then blend together. If your walls are high, you must carry multiple trays up a ladder to do this which is not only cumbersome but dangerous. You should be using a scaffold but lets face it, scaffolding might not be an option. Now you can learn how to faux paint this technique is so easily with the Triple S Faux Painting System. If you compare the steps other methods use, you will have to agree that these faux painting tools save time and money. In addition, there is less mess! With this system, you just load the Multi Color Faux Palette and carry it up with the Poofy Pad and that's it. No need to buy expensive brushes to soften the colors, either. Adding veins or cracks are easily done with the edge of the poofy pad, too. View the links to other previews of the faux finishing techniques you will learn with the Basic DVD Faux Painting Kit. Take a look at the various color schemes you can incorporate on your walls.
What colors are best to use?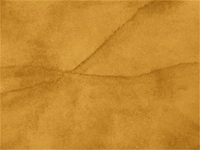 The most popular colors used with this faux finish are earth tones. Golds and browns are the most common. The colors we used on the DVD Workshop are available on our website. The main color is Florentine Brass. For the second color, you can use Turkish Coffee or our MFP1003 Black Brown which is a color we made just for our company. We recommend an off white base coat. If you want a lighter touch, then you can opt to use just the Florentine Brass or just load one section of Turkish Coffee or Black Brown to the palette instead of two sections.
What type of base coat sheen is best?
Your base coat should be a satin sheen. Eggshell is another sheen that can be used, but the method for applying the glaze on the wall is different than when you are using a satin base coat. The reason is because the glaze tends to dry faster with eggshell. Take time to watch the videos below to see the difference.
Old World on satin base coat
If video does not show up or play, click on the icon for your video player.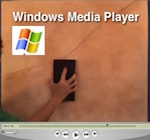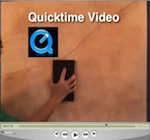 Old World on eggshell base coat
If video does not show up or play, click on the icon for your video player.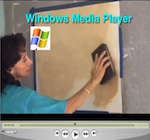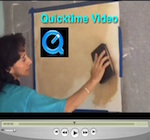 Old World on knockdown or textured walls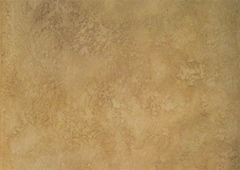 You can faux paint an Old World faux finish over textured walls. If you are using just one color like the Florentine Brass, then you would apply the steps mentioned in the video showing how to apply an Old World faux finish to eggshell. If working on a satin base coat with just one color on top, you can press the palette onto the wall and wash over the texture with the poofy pad instead. Adding a faux finish to textured walls enhances the beauty of the texture. Click below to link to one of our pages to view a video that shows one way how to add Color Washing or Old World to knockdown textured walls when using more than one color.
Faux Painting on Knockdown Texture Video
Faux Painting Articles and Questions
Go to our main page to read informative Faux painting articles and questions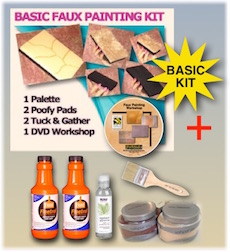 Old World Faux Combo
Only *$89.99
*Includes FREE USPS Priority Shipping and FREE Color E-Book.
This kit comes with enough Florentine Brass and Turkish Coffee (or Black Brown) paint and glaze for painting an Old World finish to living and dining room. Paint is Zero VOC from Envirosafe.
Click on store button for more information.