Learn Faux Painting-how to paint faux finishing techniques in easy steps.
Videos, Tools, Supplies, Articles, Services and Murals.
We have everything you need to learn how to faux paint (pronounced foe). We offer videos, tools and supplies as well as free articles and tips, also. Murals and Faux Painting, Inc.© offers professional services from Miami Dade to Ft. Lauderdale in South Florida, as well.
What you need to start learning today!
This is the official site of the Patented (#7472450) Triple S Faux System© as seen on T.V. It is only available on this website and not in stores.
Learn how to paint all these faux finishes and more.
Our Faux Painting Store and Tools
Basic Faux Painting DVD Kit with 5 tools plus FREE Color Suggestions and Idea E-Book!
Our BASIC KIT is now on sale for only $39.99 for a limited time. With our Basic faux painting kit, you can learn how to faux paint 10 Techniques like Old World Parchment, Color Washing, Faux Brick, Stone, Ragging and Sponging in multiple colors fast and easy right at home!
We'll send you a link via email for your FREE Color Suggestions and Idea E-book, too.
We get Questions
Here's some questions sent:
Articles and Tips
Here are a few articles that will save you time, money and frustration:
For a complete list of our articles, click below:
Faux Painting Articles
We offer many COMBO KITS which ALL INCLUDE our BASIC KIT in our faux painting store. Whether you are a professional faux finisher or a DIYer, we have the faux painting tools you need. We have also partnered with other companies to offer you other faux painting supplies that you may need. Order a set of 25 white poster boards for only $25 for practicing.
Faux Painting Videos
Watch previews of the DVDs you are purchasing. You will be amazed at how easily you can learn how to paint the most popular finishes with less mess. There are faux painting videos we have that are not part of the kit that you are welcomed to view, also. Bookmark our website to keep current with new ideas and products.
Classes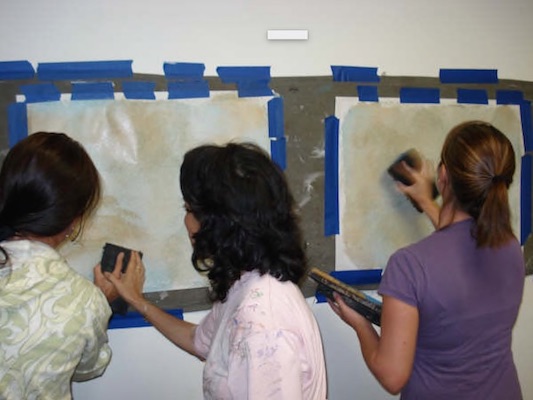 One on One Faux Painting classes are available if you would prefer hands on instruction. Registration for the classes need to be done online. There are now 5 different classes to choose from.
Services
We offer professional Murals and Faux Painting Services from Miami to Ft. Lauderdale. Our work is top quality, using non toxic materials. We offer many types of Murals, also, including children's murals.
Click below to see more pictures and to LIKE us on Facebook