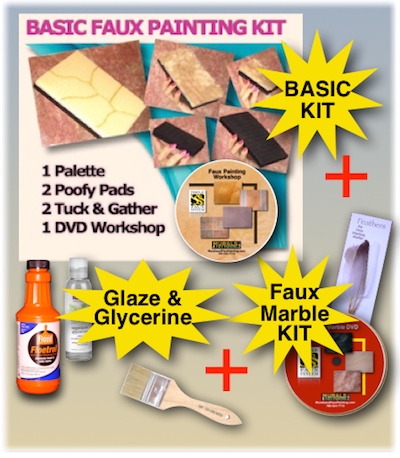 ULTRA Faux Painting Combo
SKU ultra20
$120.50
$105.99 On Sale!
You Save
WOW! You get 18 pieces in this faux painting combo set with FREE Priority Shipping.
HERE'S WHAT IS INCLUDED IN THIS PACKAGE:
* DVD Faux Painting Kit - 5 tools with DVD workshop
Patented (#7472450) Faux System - Workshop teaches you 10 different faux finishes. Includes Multi Color Faux Palette, 2 Poofy Pads and 2 Tuck and Gather tools.
* Faux Marble DVD
DVD that teaches you 7 differnet types of marble - Workshop includes tips and practice sessions.
* Set of 3 Feathers for Faux Marble
Assorted Feathers for adding veins to your faux marble
* One Quart (32 oz.) bottle of Floetrol to use as a glaze
Floetrol is a paint conditioner that we use as a glaze. It can be mixed with regular wall paint as well as acrylic craft bottled paint. One quart will allow you to faux paint an entire small bedroom (10 X 10) or bathroom. This size is great for practicing your techniques. You can purchase a gallon later from Home Depot or Lowes for larger projects.
* Glycerine (6 oz.) for adding open time
Open time refers to the time you have before glaze mix dries. Add one part glycerine to 6 parts of Floetrol to get more open time.
* Chip Brush (2 inch) for blending corners
This is the perfect brush for blending sections where you can't fit Poofy Pad.
* FREE Faux Painting Color Suggestions and Idea E-Book
Take the guess work out of choosing colors. You will receive the E-Book in an email after your order is shipped.
* FREE Priority Shipping

*FREE Hand Painted Color Swatches
Now you can match any of our colors