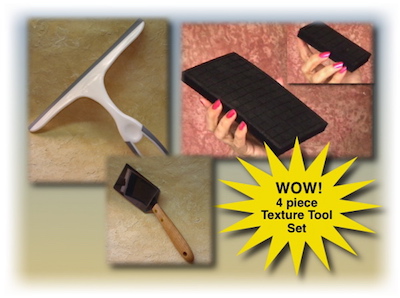 Faux Texture Tool Set
SKU text4
Price $14.99
Now you can get a knockdown look by hand with this handy, inexpensive texture tool set. that are part of the patented Triple S Faux System. No need to buy expensive tools to add texture to your walls. This tool set is only available while supplies last.

HERE'S WHAT YOU GET IN THIS SET:
*A set of large and small Tuck and Gather tools
Part of the Triple S Faux System. Use this super lightweight tool to apply the texture to your wall. You can also use plastic, cloth and foam to paint patterns on wall.
*Squeegy for knocking down textures on wall
This handy tools is lightweight and is perfect for knocking down any type of texture.
*Small trowel for applying texture on wall or onto Tuck and Gather tools.
This handy tool fits nicely in your hand and is angled so you can add the texture to your wall without having to bend your wrist.
*Includes FREE First Class USPS Shiipping!
No guessing how much your shipping will cost you.
Click below to see video on
HOW TO APPLY A KNOCKDOWN TEXTURE BY HAND