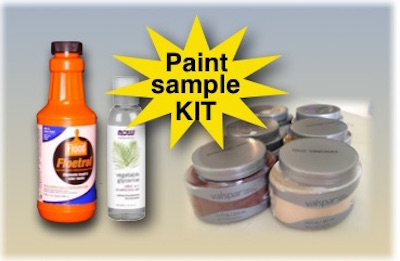 Faux Paint Sample Kit
Price $75.99
This faux painting sample kit is perfect for practicing and testing out your colors.
HERE'S WHAT IS INCLUDED IN THIS PACKAGE:
* One Quart (32 oz.) bottle of Floetrol to use as a glaze
Floetrol is a paint conditioner that canbe used as a glaze. It can be mixed with wall paint as well as acrylic craft paint. Add one part paint to 6 parts Floetrol for your glaze. One quart will allow you to faux paint an entire small bedroom (10 X 10) or bathroom. This size is great for practicing your techniques. You can purchase a gallon later from Home Depot or Lowes for larger projects.
* 6 oz. Glycerine
Add open time to your glaze mixture by adding 1 part glycerine to 6 parts Floetrol.
* 6 bottles (7.2 oz. each) of ZERO VOC Paint samples - Florentine Brass, Latte, Burnt Wine, Black Brown, Fox Fire and Shade Grown.

We have bottled 6 of the most popular colors for faux painting. The colors we have used for the Old World Parchment and Color Washing are included. Each bottle is enough to mix enough glaze to faux paint and entire small bedroom (10X10) or a bathroom. Now you can save money by testing out the colors before deciding to purchase more. We sell EnviroSafe paints in quarts if you want to have them drop shipped to your home or you can buy a similar color from paint store.