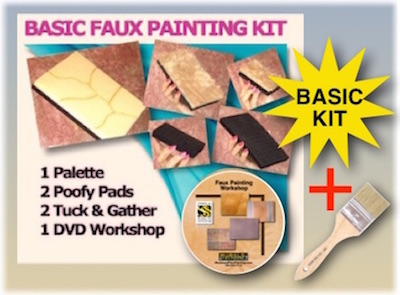 Basic PLUS Faux Painting Kit
Price $51.99
Basic Faux Painting Kit which includes Multi Color Faux Palette, a set of Poofy Pads, a set of Tuck and Gather tools and DVD Wokshop PLUS a chip brush. And now includes hand painted color swatches to match with any paint brand.
Learn 10 different finishes with this Patented Faux Painting System like Old World, Color Washing, Faux Brick, Faux Stone, Sponging, Ragging and more. Includes a FREE Color suggestions and idea E-book plus FREE Video with updated sections.
Links will be emailed once your package ships.